Quality Grader is an AI algorithm that helps you discover more high potential profiles easily.
While reviewing candidates, many companies are looking for evidences of high quality such as:
Good impact in their past work experiences
Bagged scholarships
Won competitions or cracked tests
Filed patents
Worked at great companies or went to a good school
Contributed to open source
etc etc
Until now, as a recruiter, you had to do this manually.
Introducing Quality Grader
Leveraging the latest deep learning models, Quality Grader calculates the quality score of a candidate based on their resume.
This score is relative to the peer group of the candidate. So, a software engineer with 3-6 year experience will be compared with the similar group.
A higher score means higher profile quality. A score like 95% means a very high level of profile, which normally gets hired at top companies.
How is this different from skill test scores or filters based on top companies or educational institutes?
Quality grade is much more holistic than the usual factors that are more "keyword" based.
The score factors in all the variables such as work history and academic background and many, many different variables such as their work accomplishments, patents, competitive programming experience, social accolades and so on.
To illustrate, take a look at this profile: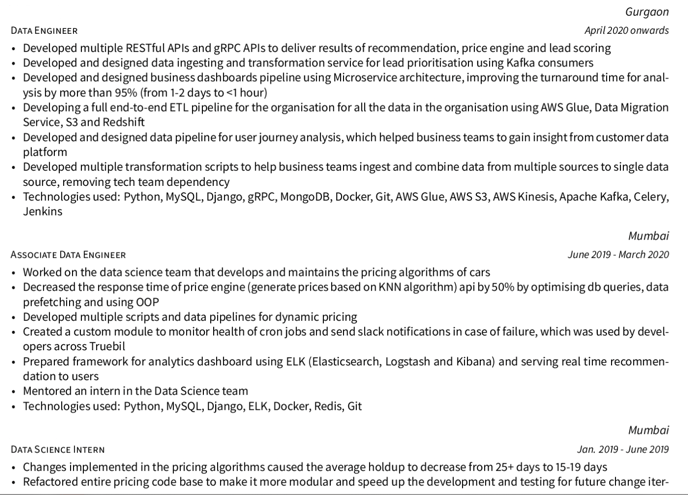 This profile has a high quality grade although it does NOT mention any top companies or educational institutions. The high score is entirely based on the kind of work this person has done compared to their peer group.
How to use this score?
This score can be used in many ways.
You can sort applications by quality grade
If you get hundreds of applications, on Cutshort or even other places like career site, email, job portals etc, you can bring them all at one place and sort them by quality grade.
You can find promising talent based on quality grade
While doing any database search or while viewing your job matches, you can also use quality grader as a filter to see the desired candidates easily.