To increase the visibility of your jobs and to get more applications from the millions of LinkedIn users, Cutshort shares your jobs with LinkedIn, its jobs partner. Here is how you can take benefit of this feature in a way that fits your needs.
Cutshort shares your open jobs with its partners such as Google, Facebook, LinkedIn and others to increase the visibility and applications on your jobs. There is no additional cost for this feature.
Which of our jobs will be shared with LinkedIn?
All of your jobs with status "Live" will be shared with partners such as LinkedIn.
You can "pause" a job if you are no longer hiring for it.
If you only want to exclude your jobs from a specific partner, such as only LinkedIn or Facebook, please write to us at support@cutshort.io.
Please note it takes 3-4 business days for the jobs to stop becoming visible on the partner sites. If you still see issues, please write to us at support@cutshort.io
I got an email from LinkedIn to "claim my jobs" posted on Cutshort. What should I do?
For our LinkedIn partnership, this is how it works:
When LinkedIn receives a job directly from Cutshort, it adds it as a "limited listing".

Such jobs are visible to the candidates searching for jobs on LinkedIn, but they don't enjoy a very high visibility.
Candidates wanting to apply for your job on LinkedIn are redirected to your job public page on Cutshort. This page is highly optimized for conversion - no sign up is needed - all they need to do is drop their resume.

LinkedIn may email you to "claim your jobs" so that it you can manage it better on LinkedIn.


You can review the job details.


You may see some errors in job details but don't worry - you can make edits to them after you have claimed them.
If you claim a job, it becomes a "free job posting" on LinkedIn. It should ideally receive more applications after you do so.
Once claimed, you can edit the details of the job completely on LinkedIn. You can even promote it with LinkedIn premium job posting packages to further boost your job on LinkedIn.
Important: After claiming a job, please reconfigure it on LinkedIn to receive applications on Cutshort
Follow these steps:
Go to this page to manage all your jobs posted on LinkedIn.
Go to "Manage job" settings of the desired job:

Click on the Pencil icon to edit settings:


Keep clicking "Continue" to reach the "Applicant Options". You have two options:


(Recommended) Receive applications via a job specific email address on Cutshort


Receive applications by redirecting the applicant to your job public page on Cutshort.



How to get the job specific email and public application link on Cutshort?
You can find these settings in the Job Pipeline section.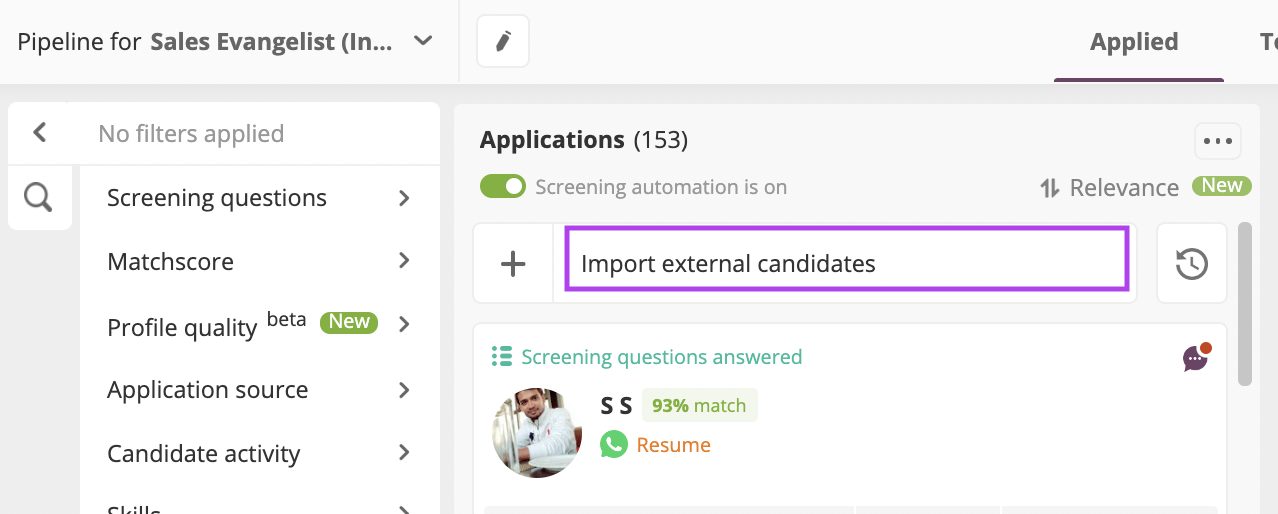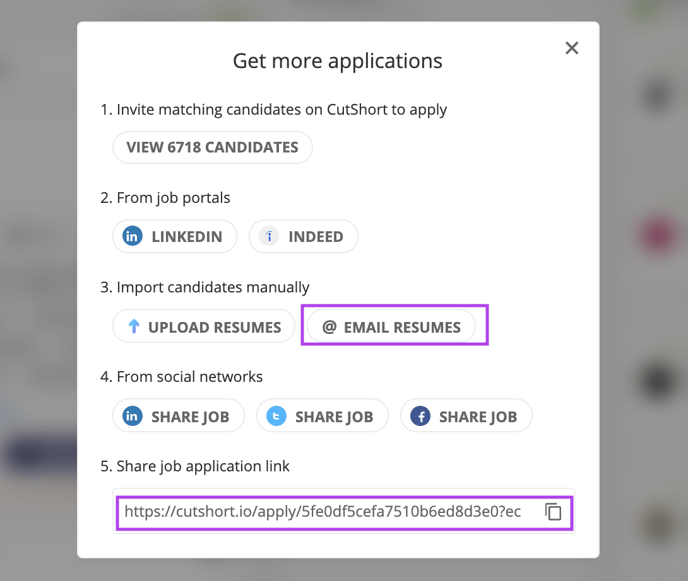 Hope this feature will help you leverage the power of LinkedIn with easy management and AI features of Cutshort.
If you have any questions, feel free to email us at support@cutshort.io.